Fügt man ein Zitat welches den BBCode verwendet in den Redactor ein zeigt dieser alle Sprachen inkl. Code: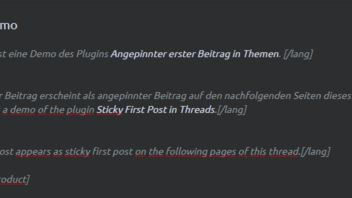 [lang='de']Dies ist eine Demo des Plugins Angepinnter erster Beitrag in Themen. [/lang]

[lang='de']
[/lang]

[lang='de']Dieser Beitrag erscheint als angepinnter Beitrag auf den nachfolgenden Seiten dieses Themas.[/lang]

[lang='en']This is a demo of the plugin Sticky First Post in Threads.[/lang]

[lang='en']
[/lang]

[lang='en']This post appears as sticky first post on the following pages of this thread.[/lang]




Buy (

EUR 9.99

)

Keep the overview in threads by sticking the first post at the top of all subsequent pages.

Display More
Nach dem Absenden des Beitrags besteht das "Problem" weiterhin.
Besteht die Möglichkeit das dahin anzupassen das es Identisch dem zitierten Beitrag angezeigt wird?